AUKEY Car Charger Universal Dual USB Car-Charger Adapter 4.8A Mini Car Phone Charger Cigar Socket For iPhone HTC Samsung Xiaomi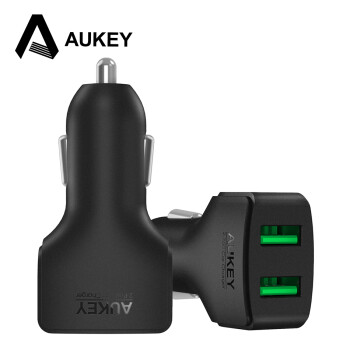 Price:
$
11.90
out of stock
Choose Shipping Method:
| Shipping Company | Estimated Delivery Time | Shipping Cost |
| --- | --- | --- |
Shipping:
Return
Policy :
If product not as described, you can return it and get full refund or keep the product and get a partial refund agreed with the seller.
View detail
Specification
Charger Feature :

Car Charger

Charger Compatibility :

Micro USB

Brand :

xiaomi , Apple , BlackBerry , Motorola , Sony Ericsson , Samsung , Huawei , HTC
Product Description
AiPower recognizes the charging requirements of your USB powered devices and matches power output for safe and efficient charging

Charge two devices simultaneously at full speed with 5V 2.4A of dedicated power output per green Ai USB port

Compatible with all USB powered devices including Android & Apple smartphones & tablets

Built in safeguards protect your devices against excessive current, overheating, and overcharging

Package Contents: AUKEY CC-S3 Car Charger, User Manual and 24 Month Warranty Card
Product Description
Color & Power: Black 4.8A
Dimensions: 2.7 x 0.9 x 1.3 inches
Item Weight: 0.8 ounces
Model: CC-S3
The AUKEY CC S3 Dual USB Port Car Charger is the most convenient way to charge your device while on the road. Plug it into the cigarette lighter socket to have a whopping 4.8A of power. Two ports pump out 24 watts of power. That's enough to charge two iPads simultaneously!
Dual USB Port
With 24W / 4.8A output, the AUKEY Dual Port USB Car Charger can simultaneously charge two tablets or two smart phones at full speed. It is easy to use and compatible with both Apple and Android devices and most other USB charging devices. (Qualcomm Quick Charge 2.0 not supported. For QC 2.0 charging, please see AUKEY's 30W 2 Port Car Charger).
The Smallest 4.8A Dual Port Car Charger
Simple and compact design, it is the smallest and lightest USB car charger with 4.8A output in the market with dual USB output. With the elegant and handy shape, it is - we are sure - pleasant to carry.
Safe
With the over heated, over current, over charging protection circuit, our car charger protects your phone and tablet from any harm from the unsteady voltage in the car when charging. So let the charging go itself, just keep your eyes on driving.
Popular Compatible Models:
Apple: iPhone 6S, 6S Plus, 6, 5S 5C 5 4S 4 3GS; All iPads 1A to 2.4A Max
Android Phones: Samsung Galaxy S6 / S6 Edge / Edge+, Note 5, Nexus 4, Nexus 5X, Nexus 6P, Nexus 7, Nexus 10, Motorola Droid RAZR MAXX, HTC One X V S; All Android models 1A to 2.4A Max
Other Devices: GPS, PSP / 0.5A to 2.4A Max
Note
Charging cable is not provided, please use your device's original cable
Please use your original cable or a third-party certified one (such as MFi).
Package includes:
1X car charger
1X Manual
Product Details
Shipping Weight :

0.04kg

Net Weight :

0.02kg

Package Size :

8cm x 5cm x 3cm

What's in the box :

Package Contents: AUKEY CC-S3 Car Charger, User Manual
Have a Question?
Disclaimer: You can inquire about the packaging, color, transport, storage and other aspects of the product before buying and our professionals will reply.Because the manufacturer may change the packaging, color, origin and other parameters of some products, the reply may be valid only at the moment to the inquiry and will be only for reference purpose for others. Time for reply:9:00am-6:00pm from Monday to Friday. Please be patient!
In order to obtain better service, please enter "My Order" list, and click "Contact Seller" to question.
Type of inquiry: Please select the inquiry type
Submit
Q by 7***1 Tue Jun 06 14:46:25 CST 2017

На 7 июня была анонсирована распродажа за 3,61$ вроде, но точно меньше 4 USD. Сейчас уже цена 8,41$, и это со скидкой! И накануне цена была чуть больше 5$. Нам не нужны такие скидки! Обман!

A Привет друг, мы так сожалеем о вас, мы ошибаемся в цене, поэтому надеюсь, что вы можете любезно понять

Q by 6***0 Thu Nov 10 19:28:01 CST 2016

Do you send with registered track number?

A Dear friend , please share us order number .

Q by 6***0 Thu Nov 10 14:40:20 CST 2016

От какой суммы вы отправляете с регистрируемым трек-кодом?

A Что такое номер заказа, я могу помочь вам посмотреть,

Q by 4***a Wed Nov 09 23:30:18 CST 2016

Для зарядки Ipad 4 подходит?

A И телефон заряд образом похожи

Q by 4***f Tue Oct 11 04:28:46 CST 2016

Как я смогу вернуть деньги , если не получил товар. В течении какого времени я могу потребовать деньги за товар?

A
Buyer Protection
We will refund if the item is not as described or is of poor quality.
Delivery Guarantee
You will get a full refund if your order does not receive
Safe Payment
Pay with popular and secure payment methods
Chinese Brands Selection
100% Brand Suppliers