QCY QY19 Phantom sports bluetooth headset sterio music bluetooth headset mini intelligent 4.1 applicable for Apple and Millet blac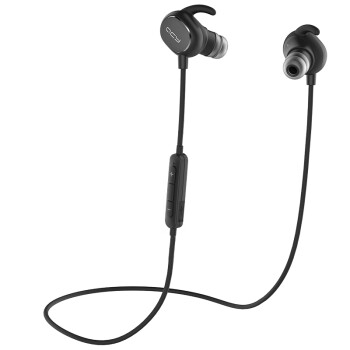 Choose Shipping Method:
| Shipping Company | Estimated Delivery Time | Shipping Cost |
| --- | --- | --- |
Shipping:
Return
Policy :
If product not as described, you can return it and get full refund or keep the product and get a partial refund agreed with the seller.
View detail
Please check the version of the product before purchase. If the plugs or outlets of the country you currently reside in are different from those compatible with the product, please use it with a converter adapted to local standards.
Product Description
Product Details
Shipping Weight :

0.14kg

Net Weight :

0.13kg

Package Size :

17cm x 8cm x 4cm

What's in the box :

Host*1, Sports earmuff*3 (3 dimensions of S, M and L), Music earmuff*2 (2 dimensions of M and L), Shark fin ear top (3 dimensions of S, M and L), Data cable*1, Instructions*1
Have a Question?
Disclaimer: You can inquire about the packaging, color, transport, storage and other aspects of the product before buying and our professionals will reply.Because the manufacturer may change the packaging, color, origin and other parameters of some products, the reply may be valid only at the moment to the inquiry and will be only for reference purpose for others. Time for reply:9:00am-6:00pm from Monday to Friday. Please be patient!
In order to obtain better service, please enter "My Order" list, and click "Contact Seller" to question.
Type of inquiry: Please select the inquiry type
Submit
Q by 7***0 Thu Aug 24 03:43:14 CST 2017

Почему же на официальном сайте qcy они в бежевой коробке?

A Уважаемый клиент, наушники помещают в белую коробку. Спасибо за Вашу поддержку.

Q by 7***0 Wed Aug 23 04:01:10 CST 2017

в какой упаковке эти наушники? на фото в отзыве они в черной упаковке, но на официальном сайте qcy они в бежевой коробке

A Привет. Наушники в черной упаковке.

Q by 7***0 Sun Aug 20 04:04:45 CST 2017

Почему в описании наушников есть слово "Meiying" ?

A Уважаемый клиент, это название цвет по-китайски. Товар на черный цвет. Спасибо за Вашу поддержку.

Q by 7***0 Tue Aug 15 04:40:47 CST 2017

Почему в описании наушников есть слово "Meiying" ? кто производитель этого товара?

A Уважаемый клиент, это QY19. Спасибо

Q by 6***1 Sat Aug 05 18:24:47 CST 2017

Hello. I want to buy more than twenty headphones qy19 (in black boxes).Can you tell me about wholesale prices? You can answer me on my email jesbod@ukr***t

A Dear valued customer, later someone will contact you. Thanks for your support.
Buyer Protection
We will refund if the item is not as described or is of poor quality.
Delivery Guarantee
You will get a full refund if your order does not receive
Safe Payment
Pay with popular and secure payment methods
Chinese Brands Selection
100% Brand Suppliers