QCY QY8 Bluetooth Sports earphones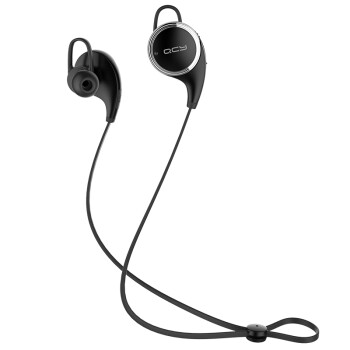 Super Deals
Begins in:

Super Deals
Ends in:
Choose Shipping Method:
| Shipping Company | Estimated Delivery Time | Shipping Cost |
| --- | --- | --- |
SHIPPING:
Return Policy
If product not as described, you can return it and get full refund or keep the product and get a partial refund agreed with the seller.
View detail
Add to Cart
Specification
Features :

Noise Cancelling , Bluetooth

Style :

In-Ear

Type :

Wireless

Mobile Phone Brand :

Apple , Blackberry , Motorola , Nokia , Sony , CUBOT , Samsung
Product Details
Shipping Weight :

0.09kg

Net Weight :

0.09kg

Package Size :

14cm x 14cm x 4cm

What's in the box :

QY8 Bluetooth earphone * 1, ear cap * 2 pairs (4) ear hanging * 2 pairs (4), USB cable * 1, manual and warranty card * 1
Have a Question?
Disclaimer: While we try to ensure product information is accurate, sellers may occasionally amend product information. Content on this site is for reference purposes, and we recommend that you contact the seller for additional information on the product.Our customer service officers are available to answer your questions from 9AM to 6PM, Mondays to Fridays.
In order to obtain better service, please enter "My Order" list, and click "Contact Seller" to question.
Type of inquiry: Please select the inquiry type
Submit
Q by 4***a Wed Dec 27 23:30:37 CST 2017

Все сообщения гарнитура произносит на китайском языке. Как переключить сообщения на английский (или русский язык) ?

A Уважаемый клиент, извините, мы улучшим описание товара как можно скорее. Спасибо за Вашу поддержку.

Q by 4***a Sat Nov 25 23:11:05 CST 2017

Не могу применить купон "$1 на покупки от $10" к этим наушникам. Помогите, пожалуйста.

A Уважаемый клиент,мы рекомендуем вам обратиться в почтовый ящик"contact@jd***m".Спасибо за поддержку.

Q by 4***7 Sun Mar 13 02:23:45 CST 2016

Можно ли отвечать на телефонные звонки?

A Уважаемый клиент,можно отвечать на телефонные звонки.

Q by 7***3 Sun Feb 07 03:18:44 CST 2016

Hello. Please tell me this is the original headphones? Thank you.

A Dear customer,this is the original headphones. Thank you for your support for JD!
Buyer Protection
We will refund if the item is not as described or is of poor quality.
Delivery Guarantee
You will get a full refund if your order does not receive
Safe Payment
Pay with popular and secure payment methods
Chinese Brands Selection
100% Brand Suppliers