KAWELL led work light LED light bar 36W 6.6" offroad 9-32V 2520LM Waterproof floodLight for ATV Jeep boat suv truck car atvs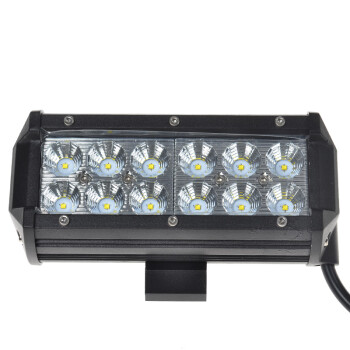 Price:
$
19.99
out of stock
Choose Shipping Method:
| Shipping Company | Estimated Delivery Time | Shipping Cost |
| --- | --- | --- |
Shipping:
Return
Policy :
If product not as described, you can return it and get full refund or keep the product and get a partial refund agreed with the seller.
View detail
Product Description
Dear friends , this work light we have stock in United States , Canada and Japan , so the delivery time is shorter than ship from china , if you interested in , please place the order , thanks .

KAWELL 36W 6.6" led work light LED light bar offroad 9-32V 2520LM Waterproof floodLight for ATV/Jeep/boat/suv/truck/car/atvs driving light Off Road
KAWELL - Let Hi-tech Light up Your Way.
Descriptions:

1.This led work light has 12 CREE LED bulbs with high brightness up to 2520 lumens.
2.It is made of diecast Aluminum, which has solid construction, making it durable. Waterproof design
ensures its working performance in various conditions.
3.Widely used as truck light, off-road car lights, engineering lamp, excavator headlights, motorbike,bus,
tank,forklift truck lights, armored car lights, etc.
Features:
Brand: KAWELL
Power: 36W
LED: CREE
Beam type: flood beam
Waterproof: IP67
Specifications:
1.Power: 36W
2.Operating Voltage: DC9-32V
3.Current draw:3A@12V,1.5A@24V
4.Waterproof rate: IP67
5.LED: 12pcs*3W Cree LEDs
6.Optional Color: Black
7.Color Temperature: 6000K
8.Lumens:2520LM
9.Housing Material:Aluminum
10.Lens material:PC
11.Mounting Bracket: Aluminum
12.Optional Beam: Flood beam, 60 degree
13.Lifetime: 50000 hours
14.Product demensions: 6.6(L)*3.1(W)*2.6(H) inches
15.Product weight: 1.7 pounds
Applications:
Engineering vehicles: excavator, road roller, bulldozer, crane,fork lift and mining truck etc.
Specialized vehicles: fire engine, police car, rescue vehicle, communication vehicle, military command
vehicle etc.
Off-Road vehicles: UTV, sand rail, buggy, ATV, SUV, truck, train, motorbike,bus,tank etc.
Others: boat,fishing,courtyard lamp, yacht,road/street lamp,etc.
Package includes:
1PCS * 36w LED flood light
1PCS * mounting brackets kit
KAWELL 6.6 дюймов 36Вт 9-32V 6000K 2520 люмен 30 градусов свет работы для вездеход/ джип/лодка/грузовик/автомобиль водонепроницаемый светодиодный прожектор LED освещение фара
особенности:
марка : KAWELL
мощность: 36 Вт
светодиод: кри из светодиодов
Тип луча : наводнение луч
водонепроницаемый : IP67
Спецификации:
1. мощность: 36 Вт
2.рабочее напряжение : постоянный ток 9-32V
3. потребляемый ток : 3ампер@12вольтов,1.5ампер@24вольтов
4.водоустойчивый тариф: IP67
5.светодиод: 12 шт.*3Вт кри из светодиодов
6.цвет : черный
7.цветовая температура: 6000K
8.люмен : 2520
9. материал корпуса : алюминий
10.материал линзов :поли карбоната

11.монтажный кронштейн: алюминий
12.тип луча : наводнение луч ,60 градусов
13. время работы : 50000 часов
14.размер продуктов : 6.6(L)*3.1(W)*2.6(H) дюймов
15.вес продуктов : 1.7 фунт
применение:
Инженерные машины: экскаватор, дорожный каток, бульдозер, крана,погрузчика и карьерного
самосвала и т. д.
Специализированные транспортные средства: пожарная машина, полицейские машины, корабль,спасателя, связи транспортного средства, военной командной транспортного средства и т. д.
Внедорожники: Утв, песок Железнодорожный, багги, квадроциклы, внедорожник, грузовик, поезд, мотоцикл,автобус,танк и т. д.
Другие: лодки,рыбалка,двор лампа, яхты, дорожный/уличный фонарь и т. д.
Пакет включает:
1 шт. 36W Светодиодный прожектор
1 шт. комплект кронштейна для крепления
Product Details
Shipping Weight :

1.00kg

Net Weight :

0.78kg

Package Size :

32cm x 13cm x 12cm

What's in the box :

1PCS * 36w LED flood light 1PCS * mounting brackets kit
Have a Question?
Disclaimer: You can inquire about the packaging, color, transport, storage and other aspects of the product before buying and our professionals will reply.Because the manufacturer may change the packaging, color, origin and other parameters of some products, the reply may be valid only at the moment to the inquiry and will be only for reference purpose for others. Time for reply:9:00am-6:00pm from Monday to Friday. Please be patient!
In order to obtain better service, please enter "My Order" list, and click "Contact Seller" to question.
Type of inquiry: Please select the inquiry type
Submit
Buyer Protection
We will refund if the item is not as described or is of poor quality.
Delivery Guarantee
You will get a full refund if your order does not receive
Safe Payment
Pay with popular and secure payment methods
Chinese Brands Selection
100% Brand Suppliers