Baofeng 2-Way Radio Speaker Mic for Baofeng BF-888S UV-5R UV-5RA UV-5RB UV-5RC UV-5RE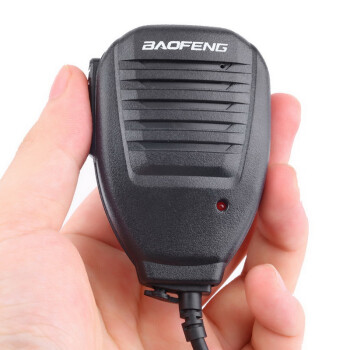 Choose Shipping Method:
| Shipping Company | Estimated Delivery Time | Shipping Cost |
| --- | --- | --- |
Shipping:
Return
Policy :
If product not as described, you can return it and get full refund or keep the product and get a partial refund agreed with the seller.
View detail
Product Description
Features:
Baofeng Speaker Mic for Baofeng, Kenwood, Linton, Puxing, Wouxun Radio
Offer excellent timbre for two-way radio user
Belt clip design
Easy to carry, convenient to use

Specification:
Speaker Size: 36mm
Microphone Size: 9.7*6.7mm
Sound Pressure Level: 94dB ± 3dB
Frequency Response: 20-16000 Hz
Impedance: 8 ± 15%
Sensitivity: -38dB ± 2dB
Audio Output: 1W
Impedance: 2.2K

Works with following handheld radios:

BAOFENG handheld Radio:
UV-5R, UV-5RA, UV-5RB, UV-5RC, UV-5RD, UV-5RE, UV-5RE plus, BF-888S, BF-777S, BF-666S, UV-8 UV-82

Kenwood handheld Radio:
TK-240, TK-250, TK-255, TK-260, TK-260G, TK-270, TK-270G, TK-272G, TK-278, TK-278G, TK-340, TK-349, TK-350, TK-353, TK-360, TK-360G, TK-370, TK-370G, TK-373G, TK-378, TK-378G, TK-430, TK-431, TK-715, TK-2100, TK-2102, TK-2107, TK-2118, TK-2160, TK-3100, TK-3101, TK-3102, TK-3107, TK-3118, TK-3160

Linton handheld Radio:
LT-2288, LT-3288, LT-6288, LT-5288, LT-3188, LT-2188, LT-3260, LT-2268, LT-3268 ,LT-6188.

PUXING handheld Radio:
PX-328, PX-333, PX-666, PX-777, PX-777 Plus, PX-328, PX-888, PX-999

WEIERWEI handheld Radio:VEV-3288S, V-1000

Wouxun handheld Radio:
KG-659, KG-669, KG-669 PLUS, KG-679, KG-679 Plus, KG-816, KG-819, KG-689, KG-689 Plus, KG-699, KG-UVD1P, KG-UV6D

FDC handheld Radio:
FD-268A, FD-268B, FD-278, FD-289, FD-6288

Package Include:
1 x Speaker Mic for two-way radio

Product Details
Shipping Weight :

0.13kg

Net Weight :

0.12kg

Package Size :

10cm x 10cm x 5cm

What's in the box :

1 x Speaker Mic for two-way radio
Have a Question?
Disclaimer: You can inquire about the packaging, color, transport, storage and other aspects of the product before buying and our professionals will reply.Because the manufacturer may change the packaging, color, origin and other parameters of some products, the reply may be valid only at the moment to the inquiry and will be only for reference purpose for others. Time for reply:9:00am-6:00pm from Monday to Friday. Please be patient!
In order to obtain better service, please enter "My Order" list, and click "Contact Seller" to question.
Type of inquiry: Please select the inquiry type
Submit
Buyer Protection
We will refund if the item is not as described or is of poor quality.
Delivery Guarantee
You will get a full refund if your order does not receive
Safe Payment
Pay with popular and secure payment methods
Chinese Brands Selection
100% Brand Suppliers